SKY BURIAL- Threnody For Collapsing Suns CD now available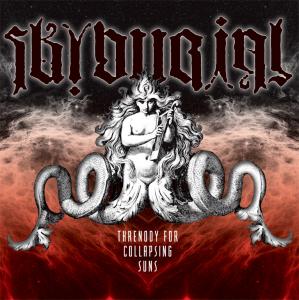 Now available from Phage Tapes and Small Doses:
Sky Burial - Threnody for Collapsing Suns CD (DOSE99, PT:151)
Edition of 500 copies.

Michael Page's (Fire in the Head) Sky Burial project has been exploring the dark ambient side of industrial music since 2006, evolving into a unique and steadfast in the genre. Threnody for Collapsing Suns is a triptych clocking in at over 50 minutes – thoughtfully composed; incorporating deep drones, shimmering synth work, and lamenting melodic lines. The disparate layers come together to form a surprisingly organic, well-crafted narrative. Threnody continues Sky Burial's journey into the nebulous dusk of "Kosmische Musik", and forms part of a loose trilogy with the preceding Kiehtan and forthcoming Aegri Somnia.

Sound samples:
http://www.fileden.com/files/2010/7/21/2920980/sky1.mp3
http://www.fileden.com/files/2010/7/21/2920980/sky2.mp3

Available from http://phagetapes.blogspot.com/ & http://small-doses.com/

I am offering this disc bundled with a t-shirt of the "siren" and logo from the cover for $22 shipped in the U.S./$30 overseas. Sizes, M, L & XL. 2 of each available. Contact sky[at]collectivexxiii.com.